New service Type: Theatre/Auditorium
If you have a service that requires a seating chart, you will love this update. Create your template, add your seats and we'll help you set up your chart. Your clients will be able to select and book their seats easily. The chart is customizable to fit your needs. Available for VIP plans.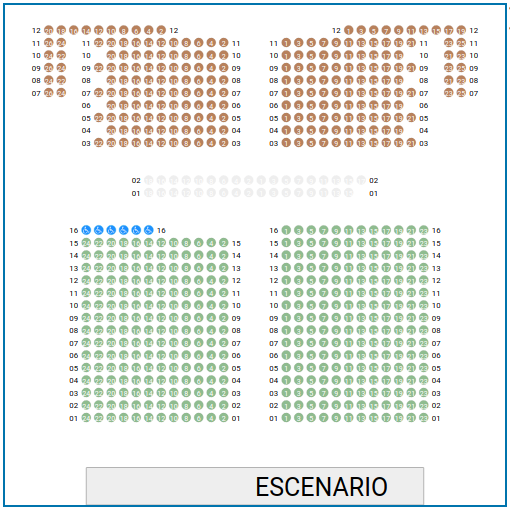 Agent's Quota
Now you can assign seats exclusively to your agents. Give them seats on specific events, set recurrence and release window for those seats. Now you have more options to assign seats to your agents. Agent's seats with quotas will be coloured purple on the Schedule tab. Available for L and VIP plans.

New Filter Configuration
Set up your filters in the booking tab as you want. Select which ones you want to see and which ones you want to hide. There are also new filters available, click on the gear button to see them all. We have also added a button to clear all fields, so you can easily create a new filter. Check it out on your booking tab.

New Export Options: select fields and export in EXCEL
Along with the new filters, you have a new set up to download your bookings. Select which fields you want to have on your export, so you have a more readable spreadsheet. Once done that you can select to export your bookings in CSV format, as we had it before, or directly on an EXCEL format.
Ticket Visibility
Select where your ticket will be seen, in your widget, back office or nowhere at all. You can also hide your tickets from your agents. See all options in any service under Ticket (expanded options)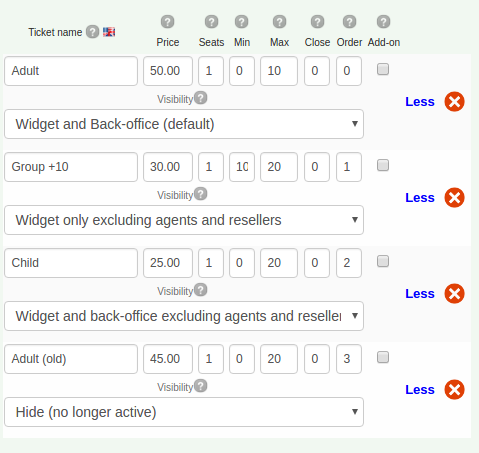 Improvements to the Shopping Cart
Now the shopping cart has support for partial payments. So if you have a service with partial payments, you can activate the shopping cart.
Above the shopping cart icon we have added an item count bubble so you always know how many items you have added to your cart.
New Updates to Transfers
We have various updates regarding transfers:
The hotel selector has a new search option. Begin to type your hotel and the list will be filtered.
Add a extra price for transport. Charge the same to all the tickets or charge differently by ticket or don't charge at all.
See in Schedule the nº of transfers for that day. Each booking with a transfer will add to the transfer icon.
New Payment Plans
We've modified our payment plans. The S, M and L accounts will be the same price but some options have been restricted or changed. We've changed the XL plan to a VIP plan that will cost 79€/month. Check them out in our webpage or in your control panel under Billing info.
New Languages
Estonian and Bulgarian have been added to our list of available languages.
Small Changes and Improvements to the System
We have added some small changes that you may find useful.
Instead of your company name, in the NavBar you will see the name of the logged-in user. If you hover over it you will still see the name of your Company in TuriTop.
There is a Link to our help center on NavBar just under your user name. Click and a new tab will open in your browser.
If you filter by checked-in / Not-checked-in, and you confirm or unconfirm a booking, it will be hidden from view until you clear the filter.
Add bookings to passed dates
Do you have any improvement suggestions for us? Get in contact with us at help@turitop.com