Hide Hours
Now in all schedules assigned to your services you'll be able to choose wither show or hide hours; this is ideal if you offer tours by the day, not by the hour. To learn more, click here.
Clickable emails and phone numbers
All phone numbers and emails are now clickable to contact your customers in your bookings tab:
Confirmation email bar codes
From now, there's a new template to use a bar code in your booking confirmation place-holder. You just need to configure this in Company >>> Confirmation email/Receipt >>> Printing templates >>> Barcode A4. This is what it looks like: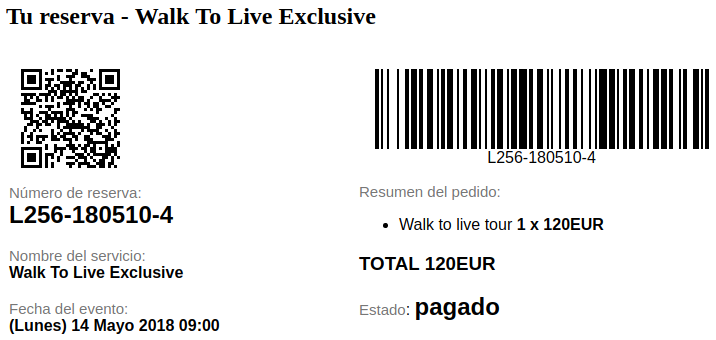 More button [+] integrated into your control panel
This is a new design feature whereas the more button [+] is now integrated into the upper dashboard of your TuriTop Booking System's control panel.
Delete a Booking permanently
Now is possible to erase a booking permanently. It will disappear from your bookings tab. Learn more by clicking here.
New user permission
You may assign a new user permission in which you'll allow him/her to check booking availability but won't have access to customer's data or booking editing.
Changes on installation of booking widget
We have simplyfied the installations of the booking widget. Now it will be easier and more practical the set up your booking system.
You will see that Iframe and Lightbox is missing, only Javascript will be available (+ info here).
Benefits of using Javascript:
Increase of widget loading speed
Auto resize of the booking widget
Support for Google Analytics
Support for Shopping Cart
Support for Affiliate System.
Resource used in Calendar
Inside Calendar tab we have added a new yellow field to let you know the exact number of seats used by a resource. In addition we have displayed the total number of seats of each event.
Improvements on Agent Quotas
Click here to take a look at the new Agent Quotas improvements.
Minor changes and fixes
Some minor bug fixes
Several minor changes to the calendar tab and some new improvements in speed and functionality.
Do you have any improvement suggestions for us? Get in contact with us at help@turitop.com