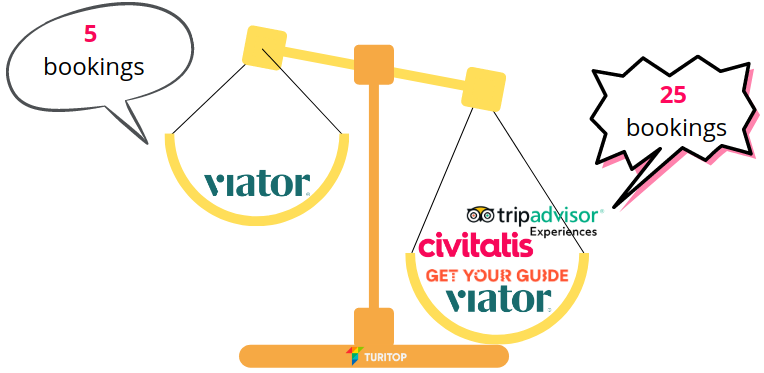 It has always been questioned whether it is really necessary to have more connections to online travel agencies, also called OTAs, for your tour and activity business, or whether you should rely only on direct bookings coming through your website. In case you decide for third party distribution channels, how many OTAs should you choose, and why shouldn't you limit yourself to only 2-3 OTAs for your business?
OTA connections for your business: An overview
There are many OTAs in the tourism sector. Some of them are mainly location-specific, such as Civitatis, others are activity-specific, such as Adrenaline Hunter, and finally those that cover multiple activities and locations, such as Viator, GetYourGuide, among others. OTAs spend a significant amount on marketing and have a much larger reach to customers compared to a tour operator's website.
OTAs control approximately 2/3 of all online bookings. So, it is difficult to get more bookings without having connections to OTAs for your business. But of course, along with OTAs, agents, resellers and even your website play a crucial role in increasing bookings. Many businesses are reluctant to work with these online distribution channels for fear of having to pay too high a commission and consequently not getting enough profit margin.
There are different strategies you can follow when working with OTAs, including negotiating the commission they will charge you. However, when you are part of such a competitive sector, it is never a good idea to limit yourself to only 2-3 OTA connections. Instead, you can generate maximum revenue and reach more customers if your business is listed on multiple online distribution channels.
It is enough to say that online travel agencies are a crucial factor for an ideal online distribution strategy. And if you limit yourself to a small number of OTAs, you will certainly miss out on more bookings and market reach.
Why should you have more OTA connections?
In the tourism sector: the more, the better. When the ultimate goal of an entrepreneur is to offer the best experience to his customers, there is no denying the fact that the experience starts from the moment the booking is made.
And as you become more accessible to your customers, it is only natural that you will get more OTA connections for your business. Here are some of the many reasons to have more connections with OTAs:
Increased exposure (visibility): Through OTAs you will get greater exposure to travellers around the world. You will achieve greater visibility, making yourself known to customers who are heading to your location on holiday.
Boosting traffic: Believe it or not, OTAs can drive traffic to your website. Travellers browsing an online travel agency are often curious to check out the service provider's website and explore the level and quality of the product it offers.
More bookings: The more exposure your business gets, the more bookings it will get. Additionally, your ranking on OTAs will also play an important role here, ensuring that your customers will find you more easily.
The right customers: Whatever type of business you own, listing on multiple online travel agencies will attract the right kind of audience, allowing you to serve customers in the best possible way.
Better ratings, better reviews: OTAs allow customers to check reviews and get a feel for the services you offer, which drives them to book with you. While a considerable number of customers check reviews before booking their holiday, positive reviews will make you more visible through better ratings on OTAs.
Considering the above points, it is not possible to get optimal performance from a few OTAs. It is recommended to have a smart strategy for the online distribution of your business and look for more OTA connections as a result. Without proper distribution management, you are likely to miss great opportunities for revenue generation.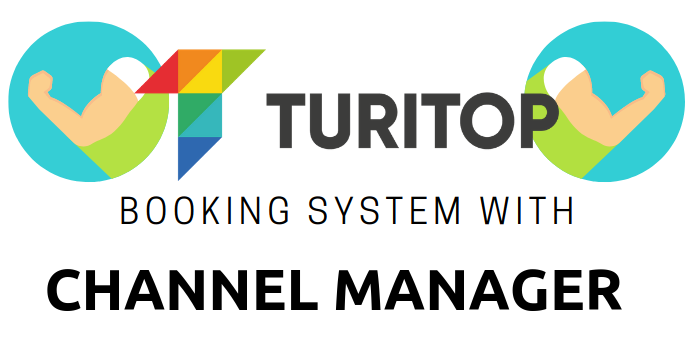 Now, how to handle more OTA connections easily?
Managing multiple OTA connections for your business becomes a difficult task, where you need to constantly monitor the availability of inventory. A smart decision, it seems, would be to go for an OTA management software that simplifies the distribution of your availability.
A Channel Manager will also reduce under- and over-booking with instant availability updates across all channels.
Even if you focus on getting more bookings from OTAs and thus increase your visibility, don't ignore the fact that direct bookings are equally important. That is why you should work in parallel on getting more direct bookings on the website.
Are you looking for a Booking System with a Channel Manager?
Try TuriTop
14 day free trial – No commissions – 30 day money back guarantee
Which are the most important OTAs I should work with?
Here is our list of the most recognised OTAs you should be working with to increase your bookings.
Viator is a TripAdvisor company – a leading global tours and activities provider for travellers, delivering online and mobile access to thousands of curated trip activities including tours, attractions, shore excursions and private guides, in more than 1,500 destinations worldwide.
Viator also provides tours and activities to more than 3,000 affiliate partners including some of the world's top airlines, hotels and online travel agencies. Viator is headquartered in San Francisco with regional offices in Sydney, London and Las Vegas. Viator – travel with an insider.
GetYourGuide collects and categorizes all the world's things to do so you research less and do more. Africa to Oceania and back again, we make it simple for you to find and book an activity that will make your trip — or your day.

https://www.getyourguide.com

Tiqets is an innovative ticketing platform that is revolutionizing the way visitors discover, buy and use tickets for museums, shows and attractions. With instant and mobile tickets, the company is providing travelers with hassle-free entrance. Since its founding, the company has successfully connected the largest venues of the main tourist destinations.
Musement is a digital, multi-platform booking service that allows travelers to find and book activities, guided tours, tickets to museums and attractions, city passes and much more around the world.
Musement is active in 7 languages, with approximately 500,000 visits/month from 30 different countries, constantly increasing
Do you have any questions about TuriTop Channel Manager?
Contact our sales team. We are available Monday to Friday from 9 a.m. to 5 p.m. GMT.
Phone: (+34) 922 394 632
Email: sales@turitop.com