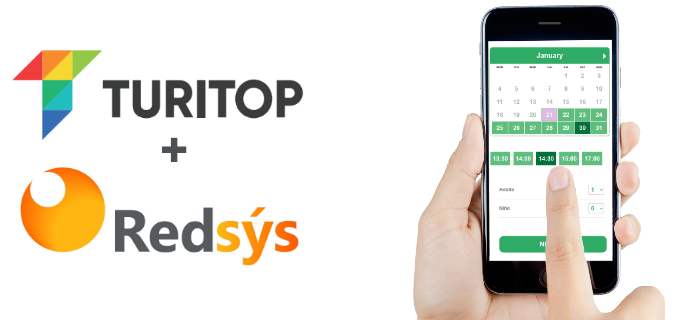 If you are making a website with a booking system, a good practice is to have as many payment gateways available as possible. In this way you will make the booking process easier for your website visitors, and you will avoid losing potential sales from customers who do not use your payment systems.
The Redsys virtual POS is a very interesting payment method as it allows you to process online payments with total security, allowing the use of Visa, MasterCard and American Express cards. You can also enable Bizum as a payment method.
Now, in order to offer a booking system connected to Redsys on your website, you must have one that has this integration. In this sense, Turitop Booking System offers integration with Redsys, Bizum and multiple payment gateways to meet your needs.
Do you want a Booking System on your website?
Try TuriTop
14 day free trial – No commissions – 30 day money back guarantee
What is Redsys Virtual POS?
Redsys is a payment gateway that allows your customers to make card payments easily and intuitively. It works as follows: once we have setup the Redsys payment gateway on our website through TuriTop, when your customers select this payment method and click on the booking button, they will be connected to an external page, through your bank, where they will make the payment.
On this page the card details will be requested: card number, expiry date and security code (CCV). Additionally, a password may be requested for each transaction, but this will depend on the security that the buyer has applied to his card and the PSD2 regulations.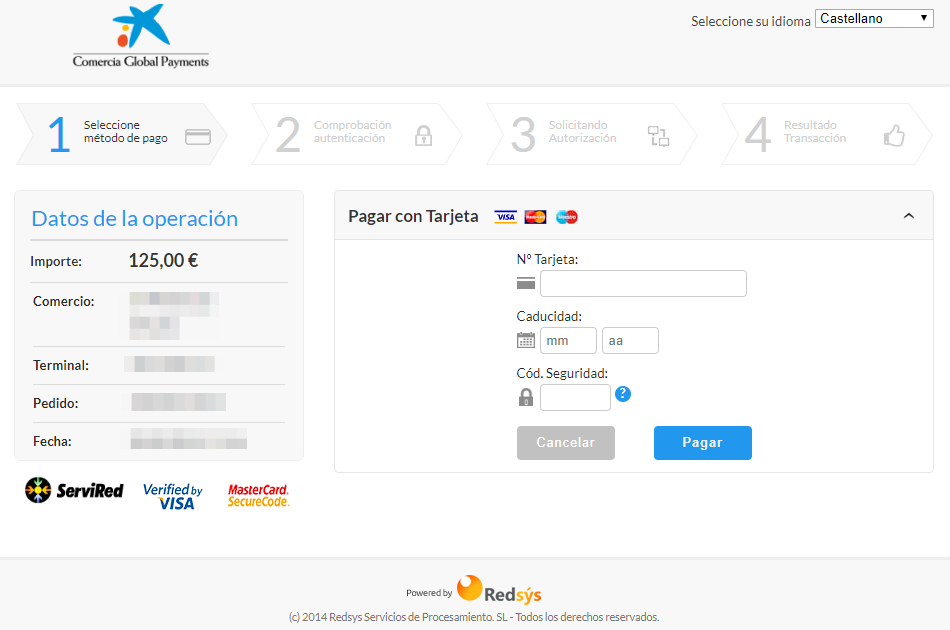 Once the payment has been completed on the Redsys website, you will be returned to your website where you will be informed of the status of the transaction. This may be successful or not, depending on whether the payment has been made correctly or has had a problem (no funds available, card not supported, etc.).
Benefits of using the Redsys Payment Gateway
As we mentioned in the first paragraph, it is highly recommended to have several payment methods on our website. For example, you can accept payments through Redsys and also have alternatives such as Paypal or Stripe. These payment gateways also allow you to charge by credit card, but the fees you will be charged for using their service are higher compared to Redsys.
If your business is located in Spain and you have a current account with a Spanish bank, you can apply for the Redsys virtual POS. Through Redsys the sales commission for each transaction will be more competitive than other gateways. This commission may vary depending on each bank, and even on the additional products (life insurance, investment funds, savings, etc.) that you have signed up for with them.
What are its most important advantages for your business:
Simplicity and ease of implementation, as TuriTop is integrated with Redsys and does not require any additional software to be installed or developed by you.
Security, as Redsys has a powerful fraud prevention tool and intelligent 3D Secure authentication, which minimises abandonment.
Speed, usually the next day you are paid in your bank account the operations made during the previous day.
Low commissions, at the end of the year you can save a few hundred euros in bank commissions.
Flexibility, because you can customise the image of the payment page.
And the benefits for your customers will be:
Payment gateway designed for mobile devices (Smartphone, Tablets).
Multi-language support.
Different authentication options to guarantee transaction security.
How to sign up for Redsys?
Most banks in Spain offer Redsys as a virtual POS. On the Redsys help page you can consult the list of banks that allow you to sign up for this payment gateway.
So, your first step is to go to your bank to find out if they offer the Redsys virtual POS service. If so, they will inform you of the conditions for contracting the service and the fees that will be applied to each sale. It is important that you visit several banks to see which is the best offer, as each bank will offer you a different fee and some will even offer a flat rate. Once you have signed the contract and waited a few days for approval, you will receive an email with the information you need to set up Redsys.
Note that if you use the TuriTop booking system you will not have to code or install anything as TuriTop is already integrated with Redsys. So you will only have to follow the steps described in the following tutorial and start charging through this payment gateway.
Finally, Redsys allows you to control in real time the payments, credits and refunds made, facilitating a more exhaustive control of your business.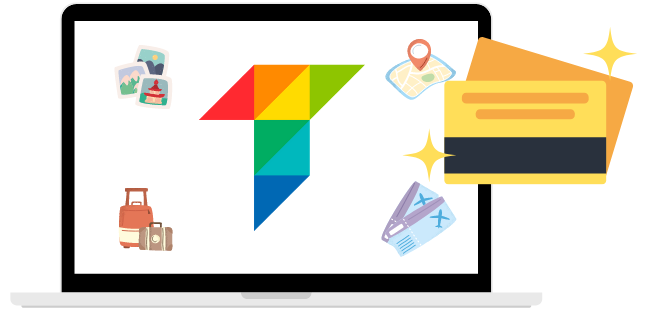 Do you have any questions about TuriTop Booking System?
Contact our sales team. We are available Monday to Friday from 9 a.m. to 5 p.m. GMT.
Phone: (+34) 922 394 632
Email: sales@turitop.com