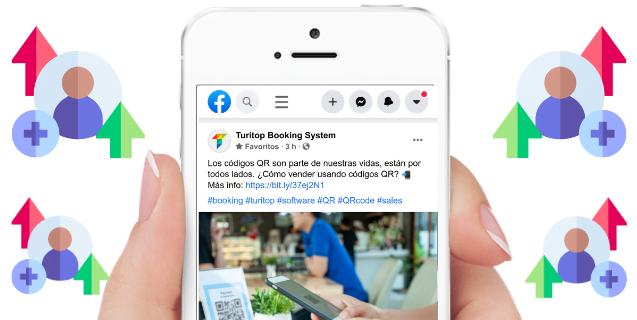 Why are followers important, you might ask? Well, with more followers on Facebook (and ultimately on other social networks such as Instagram), you will be able to connect with more people, promoting your escape room and getting new bookings. Of course, not all new followers will turn into customers, but the more the merrier, and with the strategy we are going to share, you can get a lot of followers at a very low cost.
Let's get started
Strategy
The strategy is very simple.
Create and design a contest that offers a free visit to your escape room for a team.
Publish a post on your Facebook page promoting the contest.
Promote the contest post to people in your area at a cost of 5€ per day.
Try to interact with all your followers to get the most out of them (bookings!)
Select and announce the winner, and repeat this same process a few months later.
Now, let's go through each of the steps, where we will also give you examples and templates so you can implement this strategy in less than 1 hour.
Step 1 – Create the contest
There are 4 parts of the contest you need to decide upon before going any further:
The prize – what people are competing to win – be clear, and generous.
Quantify the value – what is the value of the prize. The higher the value, the more volume of people will participate.
Deadline: Be clear about the deadline and stick to it. It should not be too far away, but not too close either so that you can get as many entries (and followers) as possible.
Rules – what people have to do to enter the contest.
Here is an example of a contest you can run:
Prize = free entry for 1 person and 4 of their friends to play in your most popular escape room.
Value = 100€ minimum
Deadline = 19th January (assuming the competition starts on 28th December)
Rules = They must follow your page and share the post tagging the 4 friends they would take with them.
Step 2 – Make a Facebook post
Once you have decided what your contest will look like, the next thing you need to do is create a post to share (and then promote) on your Facebook page. This post will have two parts: text and an image. The text will be used to explain the ins and outs of the competition and the 4 main parts you decided on in step 1.
The image is designed to grab people's attention by sharing a small amount of information about the contest, leading people to read the main text and ultimately participate.
Step 3 – Promote the post
Once your post is published on your escape rooms page, you can start promoting it. Boosting is Facebook's term for promoting the post outside of your page by spending money. While the Facebook Ads platform is confusing and complex for beginners, boosting is designed to be much simpler and was built with beginners in mind.
If you want to know how to boost a post, we recommend you to read the official Facebook documentation through the following link: https://www.facebook.com/business/pages/boost-post
Step 4 – Engage with all your new followers
Now you are all set to run your contest and get new followers at a very, very low cost. But all that work won't do any good if you can't engage with your followers. So how can you engage with them? Here some ideas:
Teach, entertain, inform, or inspire
Keep it short
Focus on quality
Use (great) images
Make a video, or broadcast live
Respond to fans
Test everything
Post consistently and at the right times
And there you go – how to get new followers on Facebook from as little as 5€ per day and how to engage with them so they become new paying customers in the future.
Are you looking for a Booking System for your Escape Room?
Try TuriTop
14 day free trial – No commissions – 30 day money back guarantee
Do you have any questions about TuriTop?
Contact our sales team. We are available Monday to Friday from 9 a.m. to 5 p.m. GMT.
Phone: (+34) 922 394 632
Email: sales@turitop.com