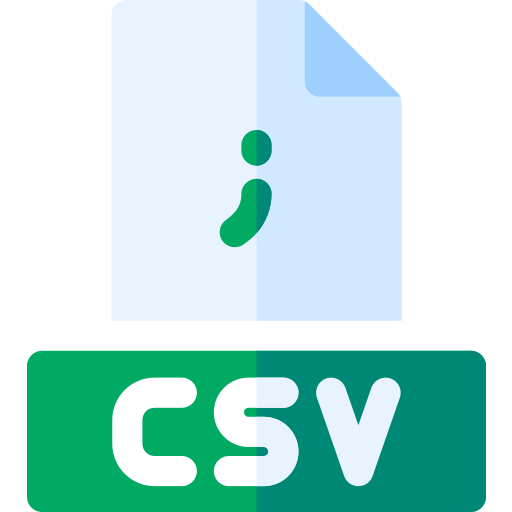 The Comma-Separated Values files or CSV are a type of file in which information for import / export is stored from / to a database; where the values of each column are separated by commas (or semicolons), and rows by newline. Continue reading to see how to open a .csv file using Excel (or other similar spreadsheet software) on Windows or Mac.
Follow these steps to open your CSV file in neat columns:

(Skip to point 3 if you already have downloaded the .CSV file)
Step 1: Go to Bookings
Sign in to your TuriTop's booking system account and go to Bookings. Then use the filter to narrow down your search. Select the date and other filter fields to customize your search and press the orange button on the left (magnifying glass) to view the desired bookings.
Keep in Mind: If you leave all fields in blank the system will show the entire database. There is a limit of 1000 bookings per download.
Step 2: Download the file
Download your .csv file by clicking the orange button on the right (CSV)
Step 3: Import the file on Excell
Open Microsoft Excell. Click on "File". It will display more options and then you need to click on 'Import'.
The program will ask you which file to open. Choose CSV File and then click on "Import".
Search your "Bookings.csv" and click on "continue" (could have another name, like Obtain).
Step 4: Check on the following checkboxes
A new 3-step window will appear. On type of file, choose "Delimited" and click on "Next". On the second step make sure ONLY "Tabulation" is checked, and then click on "Next". On the third step make sure that on "Data format by columns" the "General" check-box is selected, and then click on "Finish".
Step 7: Select where you want to place the file
A new window will appear asking you where to place the file. Click on 'Accept'.
Keep in Mind: A simpler path if you have a Google Account. 1. Open Your .csv file (see steps 1 and 2) with Google Sheets. 2. Click on "File" >>> "Download as">>> select "Microsoft Excel"
Done! Now you will have all of your client's info separated by columns